---
Ups! El otro día, hablando de tapices en el post de Miró, me di cuenta que no te había mostrado el otro tapiz que tejí en el taller de Maria Dolors el año pasado. Es un tapiz muy pequeño, de apenas 7cm de ancho, y de líneas sencillas.
¿Has probado a tejer un tapiz?
Para pequeños formatos puedes hacerte tu el telar, incluso con una caja de cartón, y aprovechar restos de fibras que tengas. Es divertido.
Es un arte con muchas posibilidades y en el que puedes ser muy creativo. Sólo hay que dejarse ir, sin tapujos. Jugar con los materiales… Sentir. Mmmmm… ¡Mis manos me piden movimiento!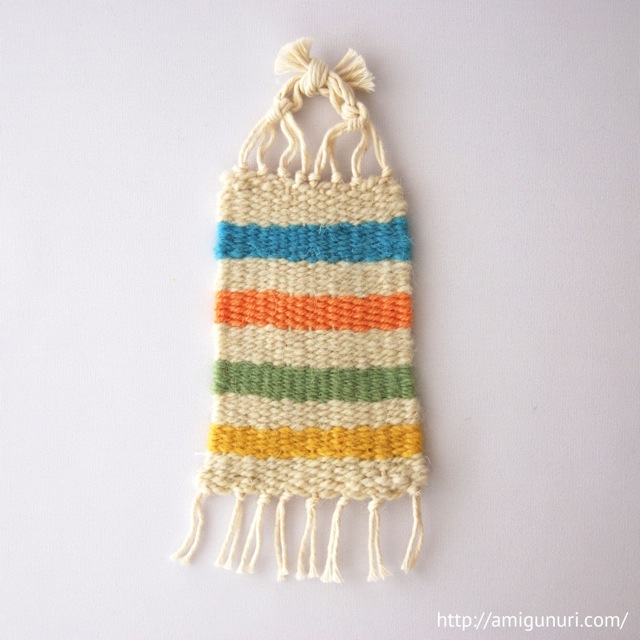 M.Dolors me dijo que éste tenía un aire mallorquín. Unos meses después me fui a vivir a la isla.
¿Casualidad?
Hand knit by me with love.
---
En la Fundación Pilar i Joan Miró a Mallorca han colgado temporalmente el tapiz de gran formato (184 x 470 cm) que Miró creó junto a Josep Royo. Es su obra "Le lézard aux plumes d'or" (1989-1991) y que pertenece a una colección particular. Es impresionante.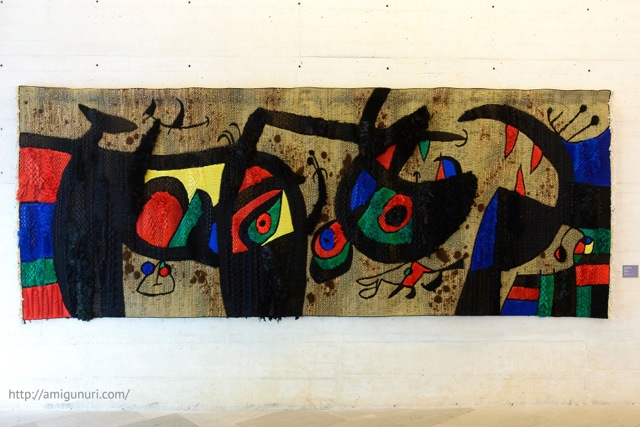 Está tejido con lana, algodón y yute. En las siguientes fotogafías podrás apreciar los materiales y sus texturas.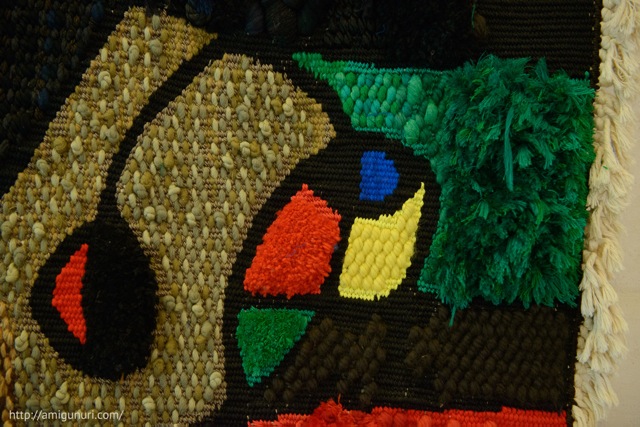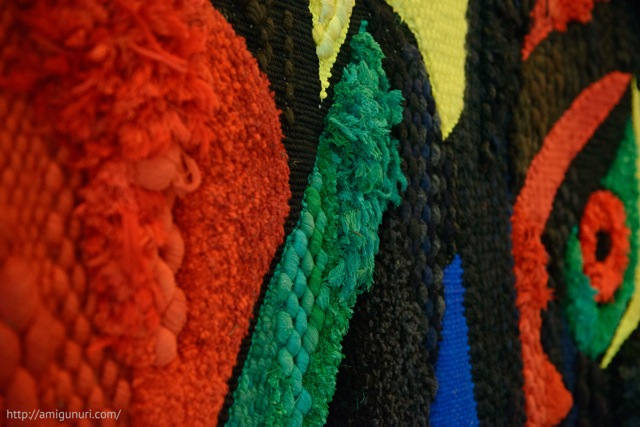 Joan Miró también utilizó el lenguaje textil.
Jugó con diferentes fibras naturales, creando volúmenes, formas y espacios.
Los colores, el diseño… es puro Miró.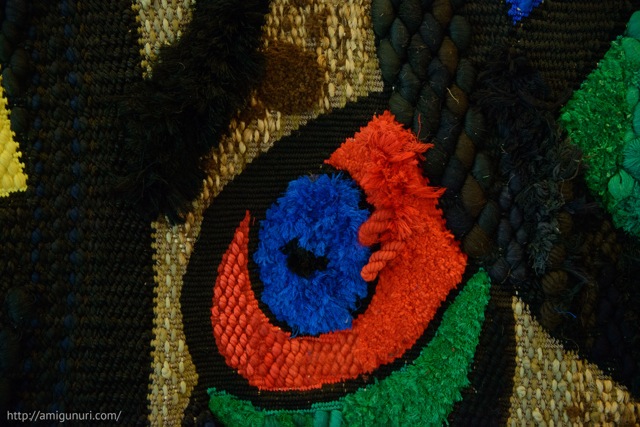 Igualito que mi tapiz. xD
Estará en Palma de Mallorca hasta el 15 de octubre de 2015. ¡No te lo pierdas!
---
I met Maria Dolors a few years ago in Santa Llúcia market, in Barcelona.
I loved their scarves, shawls and delicate foulards woven with her hands on a loom.
I visited her beautiful studio on Saturday and we were talking for a while.
It is a charming place, full of details. Breathe art.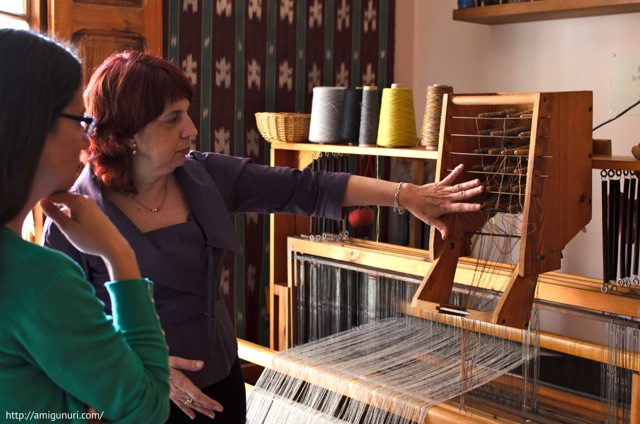 M. Dolors explained to me the way her low-warp looms work. She hand weave her designs with them. The positioning of the threads, the use of the pedals, the shuttle …
What a crazy threads!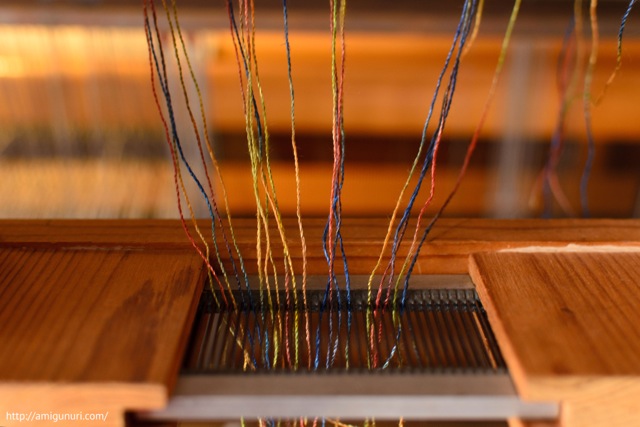 Each loom has pieces processing. Use natural fibers and sometimes adds decorative elements. She likes to create new models every season.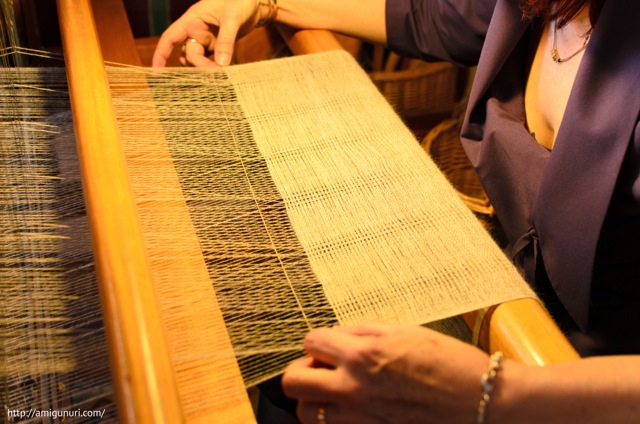 We were talking about craft, the satisfaction of creating with your hands, about life …
An unexpected morning.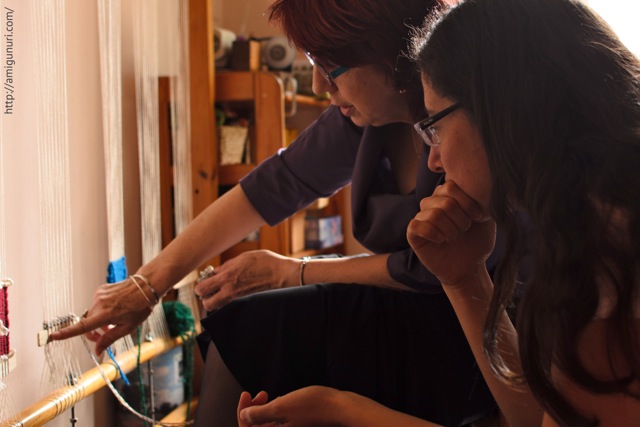 Following her instructions, I tried a small vertical loom and wove a mini tapestry.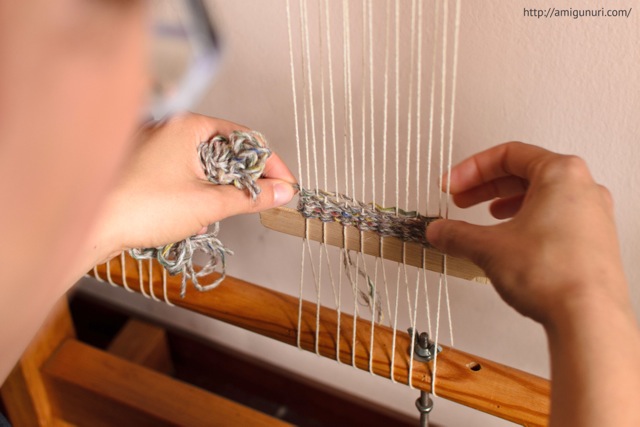 I even dared to change color and geometric form. The result xD

I leave you with her video presentation.